Concrete Answers Series for Architects, Engineers and Developers |
Click here for more answers
Help
for Commercial Projects
Integrally Colored Concrete
Beauty Thatís More Than Skin Deep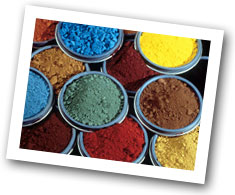 Integrally colored concrete is as practical as it is beautiful. As flooring, pavement or wall it offers concrete's legendary strength and durability, in colors to match any setting, without the cost, installation time, maintenance burden and other disadvantages of competing choices.
The newest color admixtures offer streak-fee, permanent, non-fading hues that match from batch to batch and project to project. And since the color is distributed throughout the mix, integral colors won't chip or scratch away.
Unlike many carpets and other flooring choices, integrally colored concrete offers decorative beauty without the volatile organic compounds that reduce indoor air quality. And integrally colored concrete is much more easily maintained and lasts for generations, producing attractive lifecycle cost advantages.